---
Diane and I finally celebrated the publication of my five-volume, 3,116 page Air Force Security Service history on 21 June 2013, and we did it in style with a special bottle of wine.
---
Went to press in December 2012 with "Freedom Through Vigilance," Volumes IV and V—those two volumes address the history of USAFSS airborne reconnaissance, while Volumes I, II and III that were published in 2010-11 document the history of Air Force Security Service ground units. Diane and I love German white wines, and in 1987 and 1994—before carrying liquids on board civilian aircraft was prohibited—I hand-carried on return flights to the States a case (ten bottles) of wine that I had purchased at a small family-owned winery on the Mosel River. We rationed the bottles to special occasions only, and Diane set aside one bottle (Riesling Auslese, vintage 1983) to be shared when I finished writing the history of Security Service—a project that dragged on for 12 years.
That bottle of wine had super special meaning. On a business trip to Germany in 1987, David Morgan, a coworker, introduced me to the vintner and his Frau (Hans-Otto and Marie-Luise Stölben)—the winery has been in the Stölben family since 1525. In his off-duty hours during a four-year Air Force tour near the winery, Dave had befriended Herr and Frau Stölben. He became their hero during the grape harvest in 1983, when Hans-Otto injured his back and Dave lugged all their grapes from the steep Mosel River hillside to the winery, including the grapes in our "special" bottle of vintage 1983 Riesling.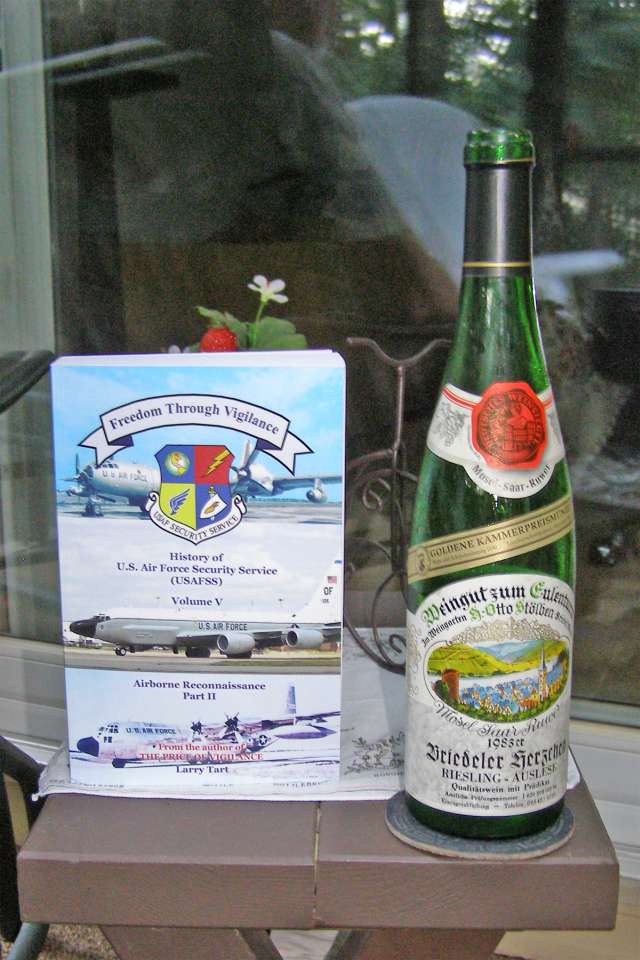 ---
This being my first bottle of 30-year-old wine ever, I was apprehensive as I screwed the corkscrew in the stopper—would I find fruity golden wine or sour vinegar? I need not have worried; I don't claim to be a wine connoisseur, but this was the most luscious, succulent wine I have experienced. It tasted even better (mellowed with age) than I remembered from my last visit to the Weingut Zum Eulenturm in July 1994.
---
During a layover in Germany following a visit to Moscow, Russia, in 1994, Larry Tart and family friend Nici Stacewicz who was living in the Frankfurt area at the time, enjoyed a wine tasting in the Zum Eulenturm Winery in Briedel. I purchased one case!
If you are interested in some outstanding German wine, I highly recommend the Weingut Zum Eulenturm, Briedel am Mosel, Rheinland-Pfalz, Germany. And if you are interested in US Air Force Security Service History, click here or Contact Larry Tart.